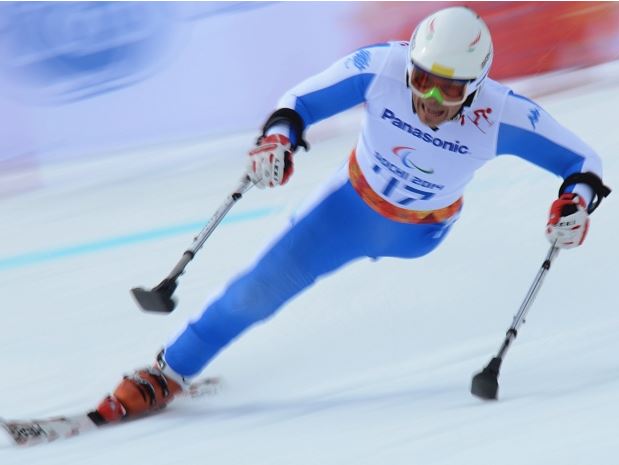 Have you been watching the Paralympic Winter Games from Sochi?  This is my first time ever seeing these athletes in action and I am in awe.
I just came home from a ski trip to Panorama, British Columbia, Canada.  There was a person on a sledge monoski, going down the mountain faster than I ever would in full control.  And he wasn't even in the Olympics.  This gave me a reference as to how amazing these Paralympic athletes must be in Sochi, Russia right now.
How do they tear down the mountain with such grace on only one leg?  How do they slalom at such speed with no leg?  What about the visually impaired, skiing at 60 mph reacting only on verbal commands from the guide in front?  Apparently if the guide crashes, the skier would stop on a dime.  And did you see the biathlon athletes, cross-country skiing and shooting targets on their stomach with only one arm?
I can't do any of that with two arms, two legs and perfectly fine sight.  Hmm.  I've got no excuse.  You've got no excuse.
It warms my heart to see how the world has gone out of its way to embrace these amazing human beings.  The technology of the sledge skis.  The adaptation of the facilities, eg hockey rink fitted with a transparent wall section.  The modification of the games, eg skiing with guides. 
They are showing us how it cannot matter what circumstance we find ourselves in.  It is up to us to see it as an opportunity rather than a constraint.  Boldly think outside the box, and leap outside the box.  This is creativity at its best, inspiration at its finest. 
In my mind, every person involved in these Games already got a gold medal.  The athletes, their families, their coaching and support teams, their sponsors, members of the Paralympic Games Committees around the world, the Sochi staff, the volunteers, the fans, the tv stations and crews broadcasting this inspiration, manufacturers and everyone else behind the scenes who created this:  My hats off to you!
Where there's a will, there's a way.  They have shown us the depth of the human will.  They have shown us the unstoppable way to live out a dream.  Now go make the impossible possible.  You've got no excuse!
Be Bold,
Kay